There is 3 feedback on this product. Note moyenne pour ce produit :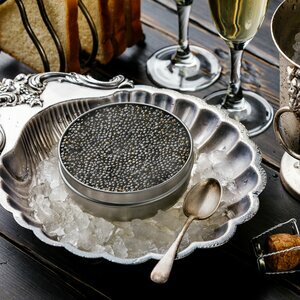 Caviar oscietre Imperial Green 100% …
from 57,60 €
Buy
The last opinion
maurice A.
wrote on 30.12.2020
Un délice. Essayez aussi de mettre quelque grain dans une huître, vous n'allez pas être déçu, le mariage est une explosion des deux saveurs en bouche, l'un venant compléter l'autre. Nature, excellentissime aussi. Merci pour cette recette! Elle a l'air délicieuse !
---
All the opinions (3)
excellent produit , très bonne surprise j ai cherché en vain le petite cuillère notifiée sur la facture dommage Bonjour M. Cerage, Malheureusement, nous sommes en rupture de ce petit cadeau victime de son succès, néanmoins nous sommes ravis de savoir que vous avez apprécié nos produits. L'équipe Délicieux Secret

Livraison conforme à vos engagements et à la date prévue . Produit excellent. Ma prochaine commande j'augmente la quantité.