Beyond organic
At Délicieux Secret we are still convinced that our organic production methods are the reason why our products have such a high quality and an exceptional flavour.
However, the term organic is nowadays more of a marketing concept drained of its original ambitions and a label stamped on thousands of products. Therefore, the consumer doesn't know anymore which selection criteria to base his choices of products on.
Our policy regarding transparency commits us to explain step by step to the customer how Délicieux Secret goes far beyond the European regulation on the organic products.

Beyond being a trend, the Organic concept at Délicieux secret is a philosophy of eating well.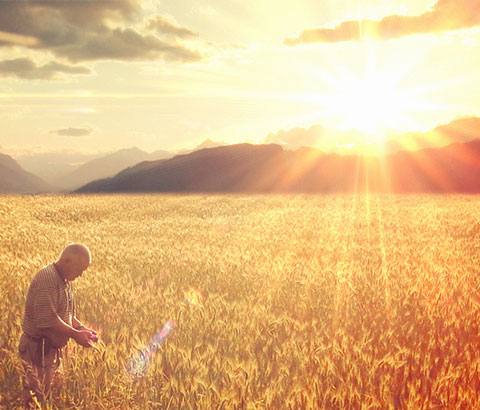 Our organic 91 days black chicken
The European specifications

The Délicieux Secret specifications

Nutrition
A 95% organic nutrition.
A 100% organic nutrition.
Nutrients
According to the European regulations, the poultry farms are not obligation to have their own integrated mill.
We produce our own feed with our mill. We therefore benefit from 100% traceability on our feed.
Antibiotics
One dose of antibiotics allowed per life cycle.
No antibiotics are given to the animal. It is cured through phytotherapy (plants and herbs infusion).
Nutritionist
The use of a nutritionist is not obligatory .
A nutritionist is hired to elaborate and adjust the feed composition in order to give our poultry the best possible taste.
Farming time

For an organic chicken, the farming time must last minimum 81 days

.

Between 81 and 100 days for poultries at maturity

Environment
Planting trees in the poultry's fields is not obligatory.
A tasty chicken was once a happy chicken. The fields of our poultry are tree-filled and verdant.
Slaughterhouse
A mix slaughterhouse is authorized for different species. For instance: for organic chicken and for regular guinea fowl.
We own the only 100% organic slaughterhouse in the world where any species mix is strictly forbidden.
Our organic Aberdeen Black Angus beef
The European regulations

The Délicieux Secret regulations

Animal Purchase
The female is not necessarily organic. No origin or genetics are required.
Our females are compulsorily organic for 2 generations. All our beefs have an origin certificate (100% pure Black Angus race) and are registered in the Scottish Aberdeen Black Angus Herd Book.
Access to the pasture
It is discretional during winter.
Our beefs have been raised in Ireland for more than 300 years. Ireland is a country benefiting from a mild weather in summer and in winter which allows our beefs to graze all year long, even during winter.
Space
If any structural constraints, it is authorized to tie the animals up. Moreover, it is possible to grant up to 14 beefs on 10ha, equaling to less than one acre of pasture per beef.
Each of our beefs individually benefit from at least 1 acre of pasture to roam alongside each other all year long.
Antibiotics
1 dose of antibiotics authorized per beef in their life.
None of our beefs are given antibiotics. If it happens, the beef would be directly withdrawn from the herd.
Biodynamics
Biodynamic agriculture methods are not compulsory.
Our beefs are fed 24 months on a herb rich in red and green shamrocks and on natural 100% organic complements. The complements are harvested and later spread according to the biodynamic agricultural methods (which includes the use of the lunar calendar).
Our organic chocolate bars
The European regulations

The Délicieux Secret regulations

Emulsifiers
The regulation imposes a minimum of 18% in order to grant the name of cocoa butter chocolate. It is authorized to incorporate vegetable fat other that the cocoa butter up to 5% of the finished product.
Our partner produces chocolates with a minimum of 42.9% of cocoa butter and free of soy lecithin.
Compostable packaging
No precision
Our packaging is compostable and therefore eco-aware. In fact the cardboard is made from wood from sustainably managed forests and the freshness sachet is made from vegetable materials.